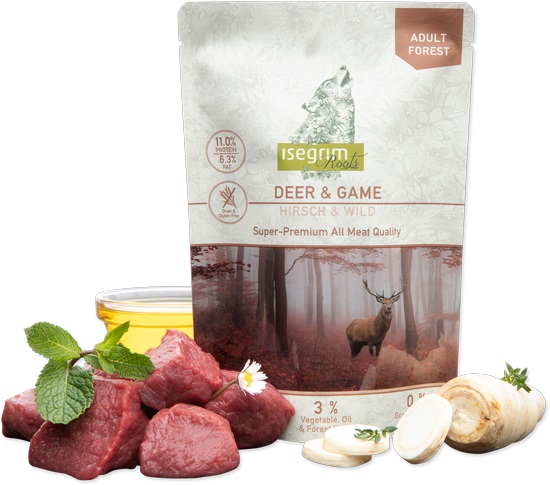 DEER + GAME WITH PARSLEY ROOT, SAFFLOWER OIL & FOREST HERBS
DEER + GAME WITH PARSLEY ROOT, SAFFLOWER OIL & FOREST HERBS
Inspired by the feeding territory of ancestral dogs, this menu combines savoury venison and game with parsley root. Especially rich in vitamin C, and a touch of herbs – a power-packed and well-balanced meal!
FEEDING GUIDE:
Feed daily (weight/amount): 5kg/350g, 10kg/590g, 20kg/1000g. This information is for guidance only. Please feed at room temperature and provide always fresh drinking water.
COMPOSITION:
35 % Deer, 35 % Game, 27 % Broth, 1,5 % Parsleyroots, 1 % Minerals, 0,3 % Forest Herbs, 0,2 % Safflower Oil.
ANALYTICAL CONSTITUENTS:
protein 11 %, fat 6,3 %, ash 2,3 %, crude fiber 0,5 %, moisture 78 %
NUTRITIONAL ADDITIVES PER KG
Vitamin D3 200 IU, zinc 25 mg, mangan 1,4 mg, copper 0,5 mg, iodine 0,75 mg